The real issue is that the minute you open yourself up to 360, or any type of development, most will cite the same areas for you to work on that you knew were your weaknesses already. Lets face it no-one is good at everything! We call this the "Weakness" Syndrome, perpetuated by appraisals and development reviews.
It's like having a conversation with David Beckham, where we tell him that we have been watching him for a while in practice and notice that he is not that good at catching a ball or general goalkeeping skills. so for the next few months that's where we are going to focus his training!!
David Beckhams freekick marvels.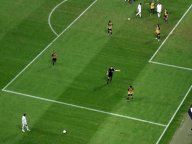 Our approach through training, or one to one coaching, is to firstly work with individuals to ascertain their key strengths. We then work with them on getting even better at the things they are really good at. OK, so we are not going to ignore any obvious weaknesses, especially the career limiting ones, but it won't be the only focus.
Types of programme that we run include, Ascertaining and playing to your core strengths and working with Management teams to improve their leadership skills, in areas such as Coaching, Influencing, Communication, Conflict and Team Development.
For more details on our Training Consultancy services, contact us now